Woodfordes Norfolk Nog Review
Kit ABV - 4.5%
Achieved ABV - 4% (4.2% Conditioning)
SG - 1.040
FG - 1010
Water - Bottled Spring Water 18L
Wort Volume - Topped wort to 21L
Pitching Temp - 22.8oC
Priming Sugar - 85gms Keg - 1/2tsp p/Bottle
FV - 3 Weeks 2days (w/Temp 18-19.5oC)
Pressure Barrel - 8 Days (w/Temp 18-19.5oC)
After brewing this over the last month, I though I'd add my little contribution to this brilliant forum. There's such a wealth of knowledge to be had here it really is fantastic!
To be honest it felt a tad daunting at first as the majority of brewers here seem to be All Grain veterans, and heres me the new guy chucking together a Woddfordes kit and being rather chuffed with it so far. Heh.
Well everyone has to start somewhere eh.
Anyway enough rambling, onto the review.....
***Disclaimer: I'm not stating im a reviewer of any kind, in fact I've never reviewed anything in my life! So take this with a pinch of salt!
***
Brewday commenced and the 28th March.
I decided it would be best to take a few images along the way, showing the brewing process from tin(s) to glass. So here we go:
All equipment cleaned and sterilised
Woodfordes Nog Kit
Giving the tins a reet good soaking in hot water for ten mins
Equipment good to go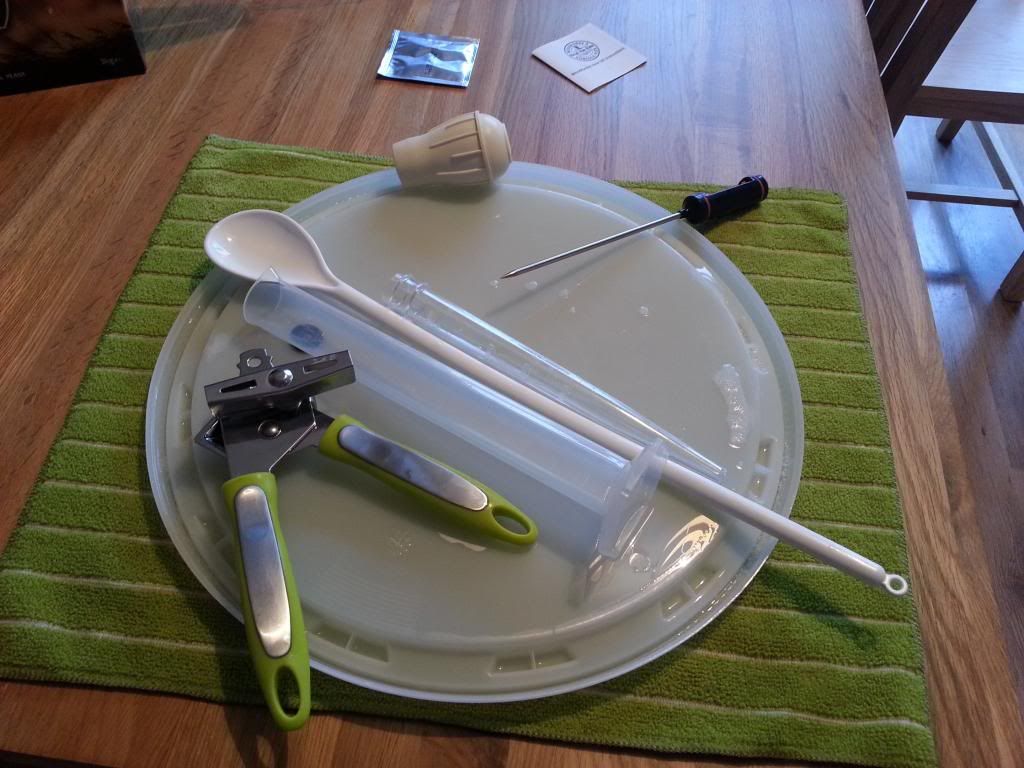 Nice clean empty tins....that does smell bloody lovely!
Extract in, water good to go
Pitching temp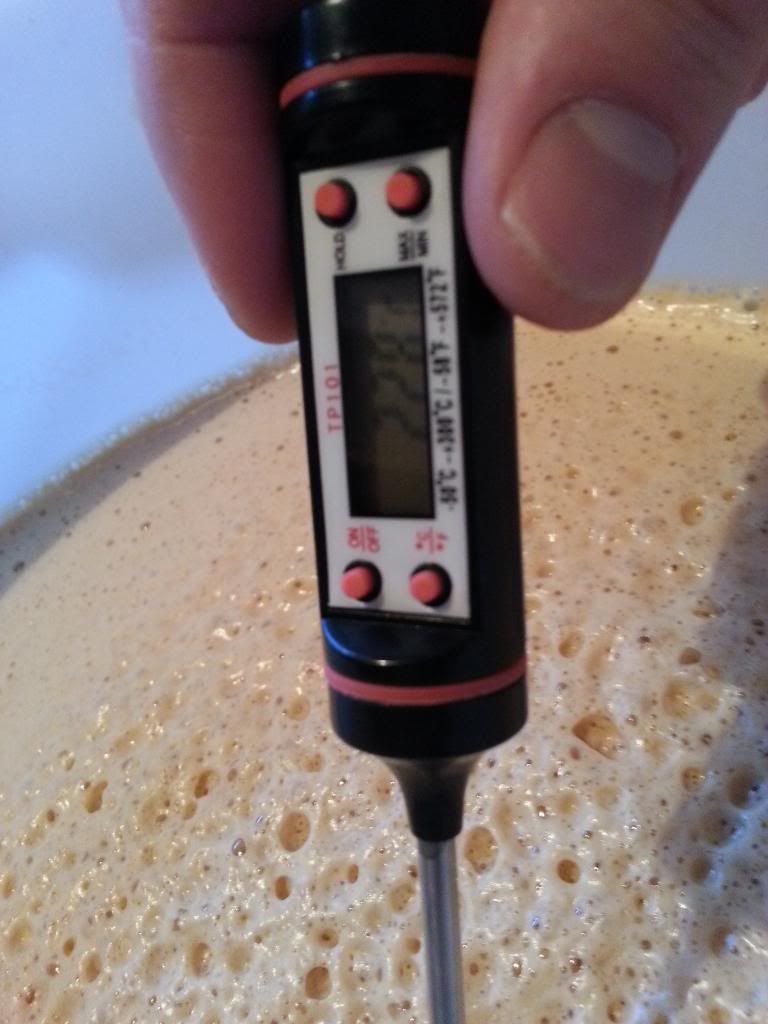 I measured topping to 21L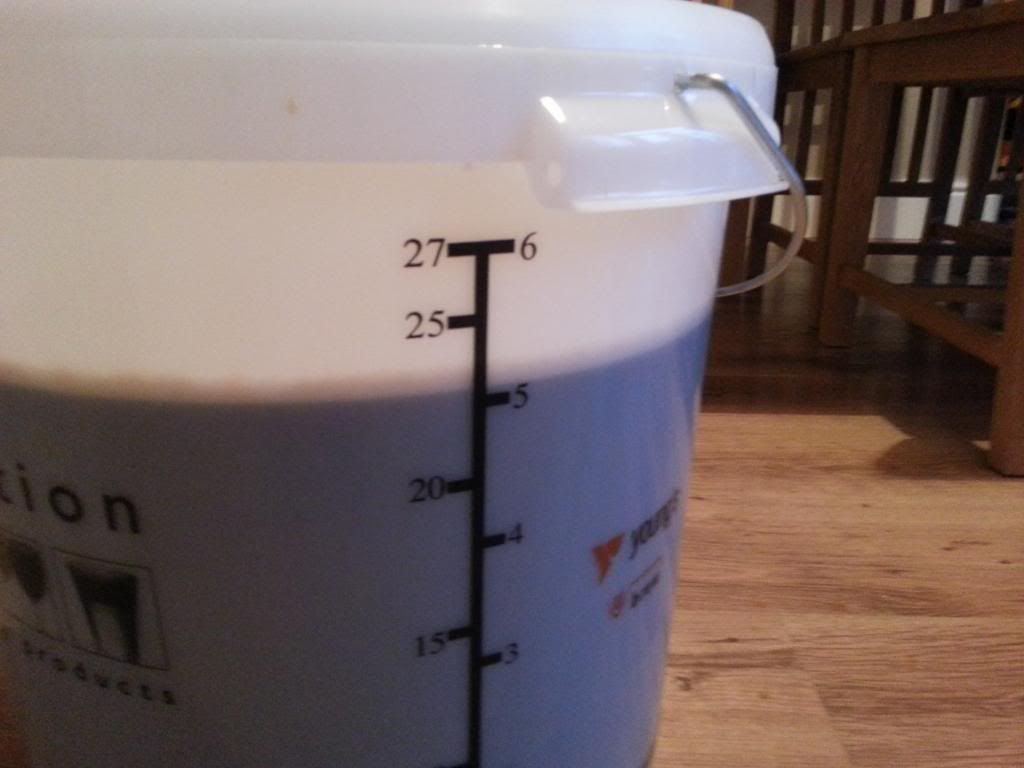 Home for three weeks
Gravity Reading after 21 days
Looking on track to me
I took another gravity reading two days later, 1010 again so proceeded to keg.
I bottled 1 tester bottle and 6 keepers that I'm going to crack open on Xmas day, the rest was kegged.
It's now been 8 days in the keg, primed with 85gms sugar. Thought I'd pull a little trial jar to check keg pressure and for leaks and what not...
I must say for it being so young it really is very drinkable.
The first thing that hits you on the nose is that rich roasted malt smell, slight sweetness aswell.
Taste is very malty, medium mouthfeel, a little thin due to age. Sweet like treacle and something else I can't put my finger on. The aftertaste is quite bitter, again though....it's only 8days old!
Going off this young taster, I'm sure it will mature into a beltin winter drink this one!
Quite happy with my first go at homebrew
I will update as I go, so another week in warm then off to the outhouse for two weeks.
Will post more tasting notes the further along it gets as I'm keeping this keg for winter!
To sum up, for anyone just getting into home brewing you can't go wrong with this kit.
Forget the instructions timescale, bank on a minimum of two weeks in primary followed by two weeks warm two cold. Even after the 8days mine has had in the keg I could happily sink a few of these!
God only knows what it will be like in say another month?
Cheers