A new sour beer for me today. A lichtenhainer. A sour and smoky pale ale. I'm thinking of it as a smoked berliner. I'm not sure that it's a combination I'll enjoy, but lets find out. Fermenting away now. This is not a traditional take on the style I don't think, but I can't stand oak smoked malt.. smoked salmon! So opted for cherry wood.
I've put more details on a wee blog
https://wildbeeerblog.wordpress.com/2017/04/21/lichtenhainer-part1/
. I've been using the forum to record my ramblings, but think I'll be able to keep them better organised on wordpress
. Readership will probably be me and the google bot.
I also added ~8% Belgian Dark Candi Syrup to the second demijohn. To see if the fruity nature of that pairs well with it. A smoky red sour ale?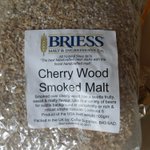 Lichtenhainer

Original Gravity (OG): 1.037 (°P): 9.3

Final Gravity (FG): 1.006 (°P): 1.5

Alcohol (ABV): 4.07 %

Colour (SRM): 4.4 (EBC): 8.7

Bitterness (IBU): 0.0 (Average)

40% Wheat Malt

30% Cherry Smoked Malt

30% Lager Malt

Single step Infusion at 66°C for 60 Minutes. Boil for 60 Minutes

Fermented at 18°C with

Notes: 1.032 to 1.040

Traditionally probably brett mixed ferm.