When I first started brewing, I frowned at recipes that used sugar and followed the general advice to just substitute the sugar with more malt. So it wasn't until I started to look (research is not quite right) at old recipes, courtesy of Ron Pattinson (he does the research) that I realised that sugar, or invert sugar has a long history with brewing. Now I don't know why it was introduced, but I'm now trying it out with some of these old recipes. The names from the old brew logs are quite interesting; Gartons, Martineau, Hay, Pale Trint, No.3 F, Luscious Priming, S&M, and they came in grades of colour; No.1 25-35EBC, No.2 60-70EBC and No.3 120-140EBC. Some of the sugars were also a sugar caramel mix. They would have added colour and flavour to the beer and also dried it out somewhat.
So how to make it, this isn't a "how to" but there is a very good post by Lucky Eddie on Another Place in the "how to" section for making candi sugar (I'm not posting a link) and also a good one from Kristen England here
http://www.unholymess.com/blog/beer-brewing-info/making-brewers-invert
. So the important thing is to use unrefined cane sugar because it's the impurities that give it flavour.
This is my experience from last week making some No 1. I used Billingtons unrefined golden granulated sugar (from Waitrose) and you will need a non stick saucepan, wooden spoon and a jam thermometer. I followed Kirsten's recipe and used Fahrenheit as it was easier. The first lesson to learn is to use the minimum amount of water you can, I used too much and you then have to boil that off before the temperature will rise, as you want to get to 240F. Otherwise it went ok, but this is only No.1 and I think No.3 will be a bit more of a challenge standing at the stove for 3 hours.
So just to summarise, use unrefined sugar with minimum water, I used citric acid at 1/4 level spoon for 1kg sugar (you can go into this a bit more and also use CaCl at the end to neutralise the acid), careful with the boil as it can boil over or rise over the temperature you want, handy to have a dish of cold water that you can spoon in if required. But then you just maintain temperature of 240F (this is marked "soft ball" on my thermometer) for the required time. No.1 EBC 25-35 20 mins, No.2 EBC 60-70 90-120 mins, and No.3 EBC 120-140 150-240 mins. When you have reached your colour add some cold water a spoon at a time and when settled down a bit, reduce it with more water to get a light syrup (otherwise you will end up with a rock) and store. I ended up diluting mine to give a total of 1200ml for 1kg sugar.
Sugar
Start of boil at 240F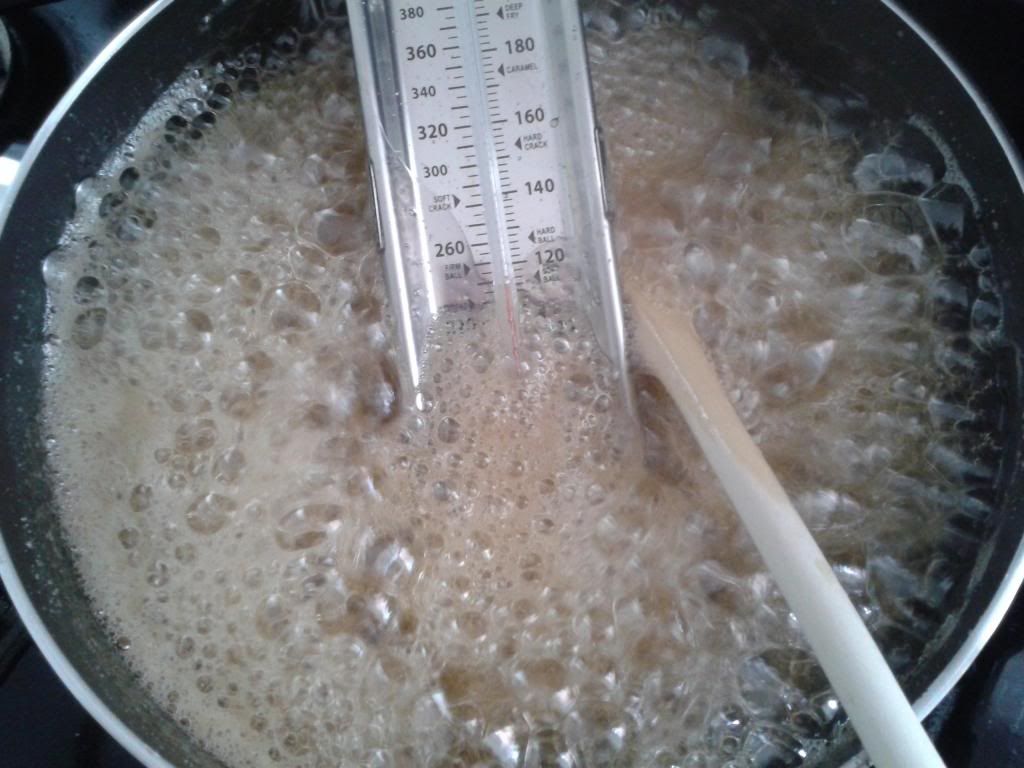 colour after 5 mins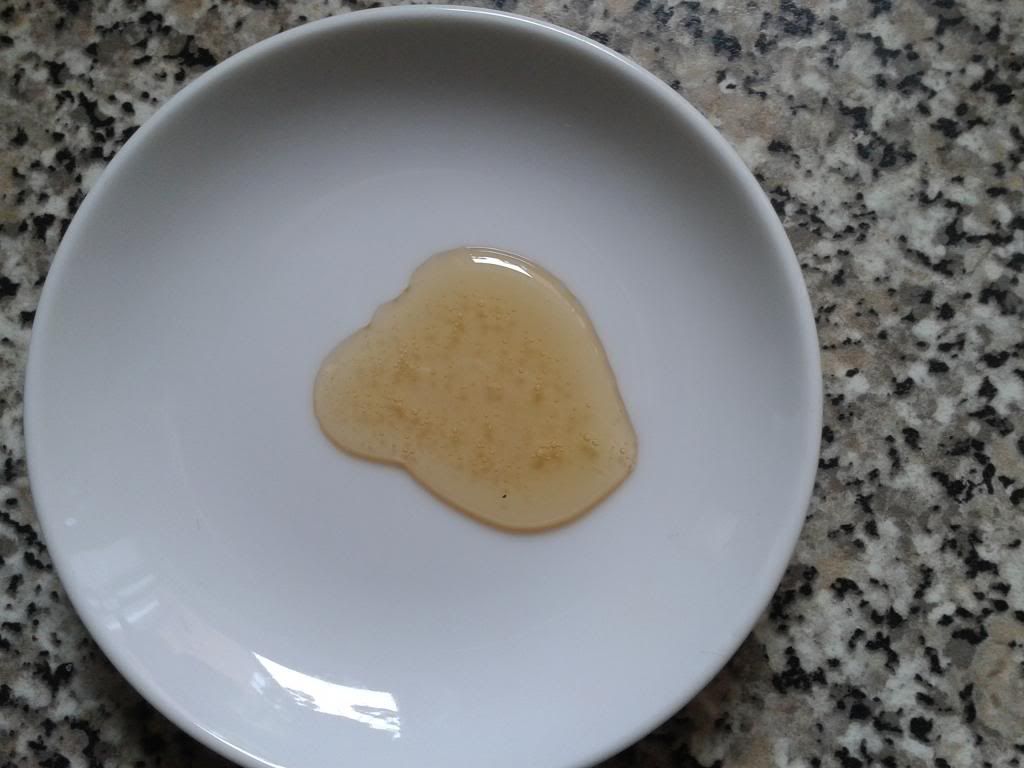 about 15 mins in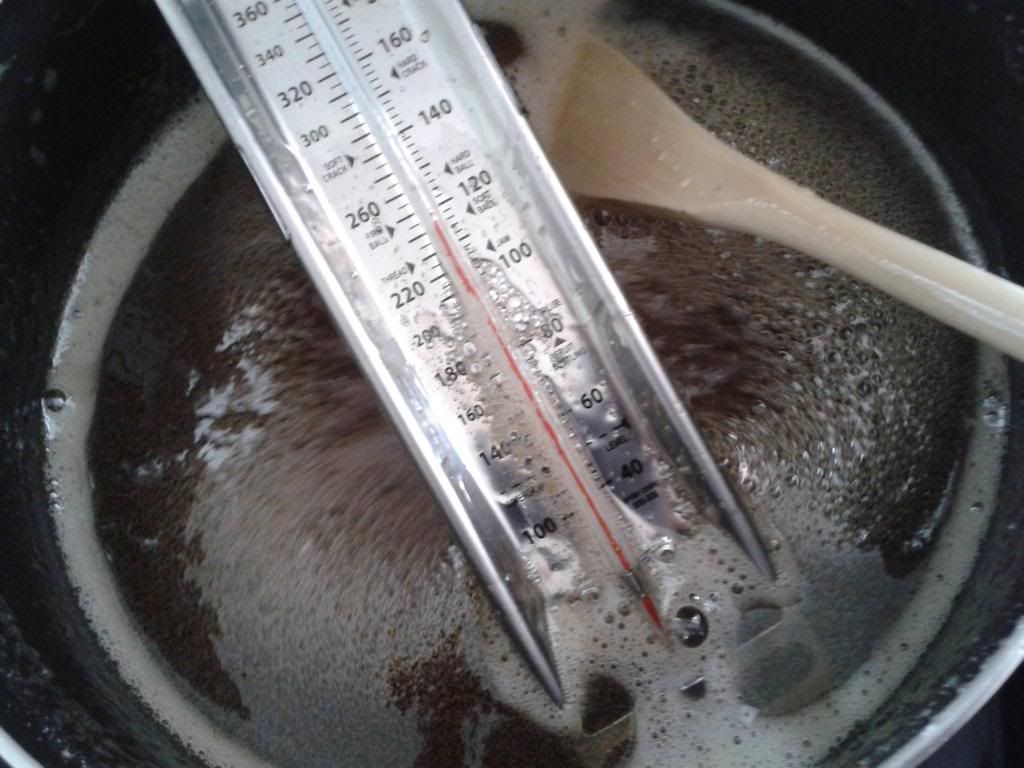 Final colour on a dish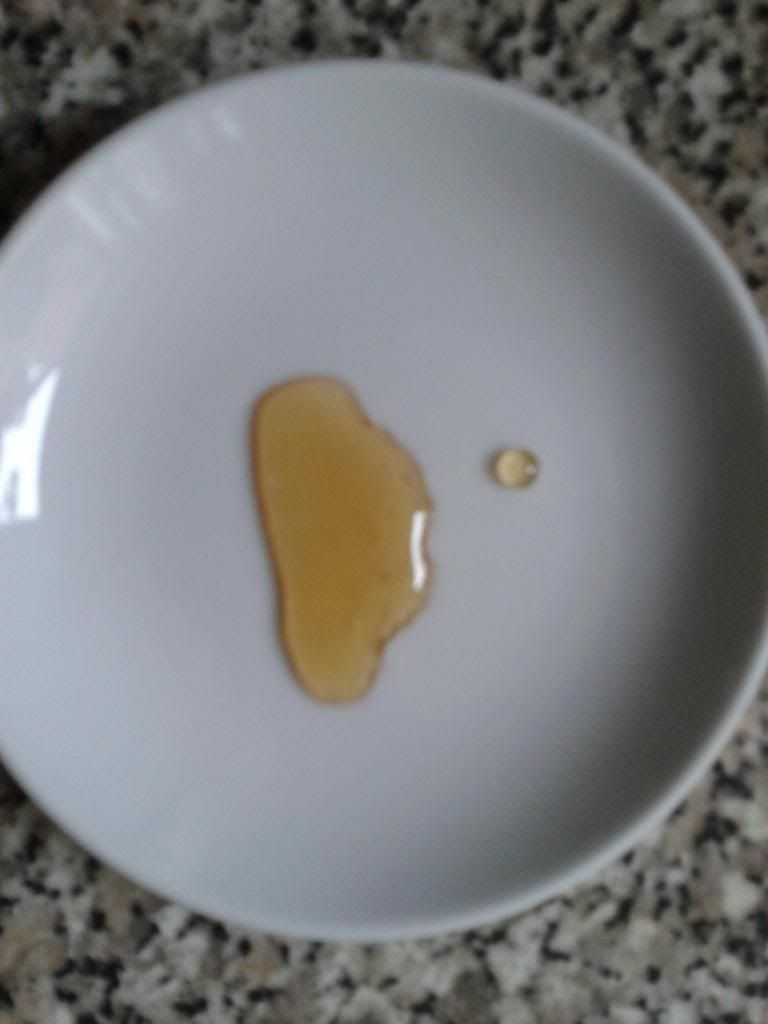 Final product 1kg of sugar in a 1200ml syrup, colour seems alright to me at an average of 30 EBC