Warning:
Elderberry is a long-term wine. I wrote this guide in September 2010 but probably wouldn't even have bottled the wine until Christmas 2011. Anything containing elderberry needs at least a year, and preferably longer.
There are many recipes in books and on the internet for Elderberry wine, and the method should always be fairly similar, but all recipes can be modified according to what ingredients you have to hand. The raisins and grape juice are my own twist and can be regarded as optional extras.
You will need a bucket with lid, a DJ, PET or other suitable closed fermenter with airlock, a sieve, a funnel, a straining bag (nylon or muslin), a long handled spoon (plastic or stainless steel) and a potato masher.
Ingredients for 1 gallon
:
3 lbs (1350g) Elderberries
1 kg (or thereabouts) Sugar
200g (or thereabouts) Raisins (optional)
500ml Red Grape Juice (optional)
1 Lemon
Boiling water to 6 pints
1 tsp Pectolase
Red Wine Yeast or GP Yeast Compound & Nutrient
All recipes can be scaled up or down, with the exception of the yeast. If using sachets, one sachet will usually do for up to 5 gallons, if using compounds, 1 tsp for 1 gallon, 2 tsps for 5 gallons.
Elderberries look like this, pick them when the berries are almost black and the stalks have turned purple.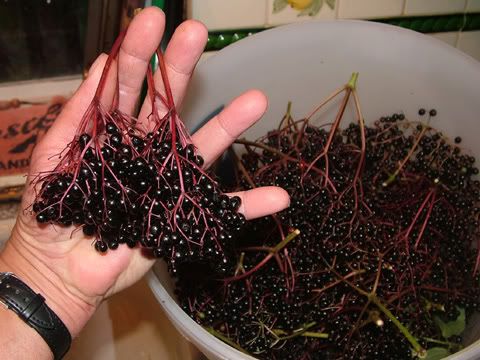 Some people have said to freeze them and shake the berries off, but I can't comment as I have never tried that. The usual method is to comb the berries off the stalks through the prongs of a fork. Try a few forks until you find one which removes the most berries with the least amount of stalk. Do this over a large bowl of water.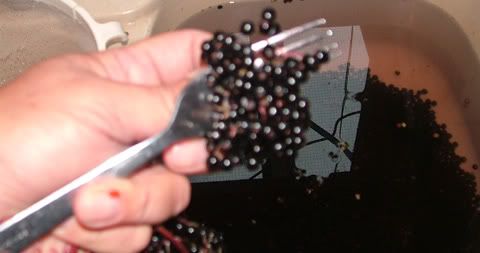 I have recently found that if you take a sprig of berries in one hand, holding the stalk in the crook of your thumb, cup your other hand over them and rub gently in opposite directions, the majority of berries should fall off quite easily. It just takes a bit of practice to find the level of pressure required to remove berries without crushing them. Keep your hands wet and it doesn't stain (much).
Periodically, skim off and discard any "floaters", unripe, over-ripe, and the occasional insect.
Elderberries are free, which is my favourite price for winemaking ingredients, but I'll be honest with you, stripping them from their stalks can be a pain and I certainly wouldn't want to do 15 lbs in one go, so I've been picking them over the course of a week, stripping, washing, sorting, sieving and freezing.
A gallon's worth is just under a 2 litre ice cream tub
It turned out that I'd got 6 lbs in this latest batch, so my plans got scaled up. Those went into my FV and were attacked with a potato masher. In the meantime I got another 9 lbs out of the freezer ....
.... covered them with boiling water and heated them gently. These were also mashed, and the pan brought not quite to the boil. Don't use any sort of electric blender, you don't want to break all of the pips.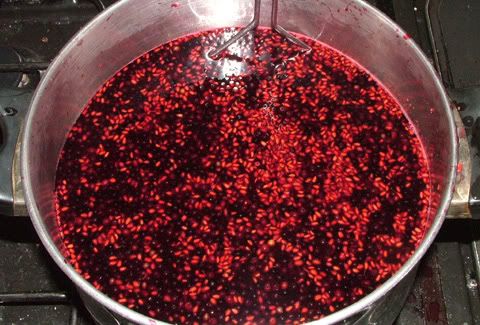 The contents of that pan plus a couple of gallons of boiling water went into my FV.
I rinsed the vegetable oil off a kilo of raisins, blitzed them in a food processor and added those to the FV, together with 2 sliced lemons (all I had got) and 1 tbsp of citric acid. I also added 3 litres of red grape juice. The raisins will improve the body of the wine, the grape juice is optional but I'd got some and it seemed like a good idea at the time.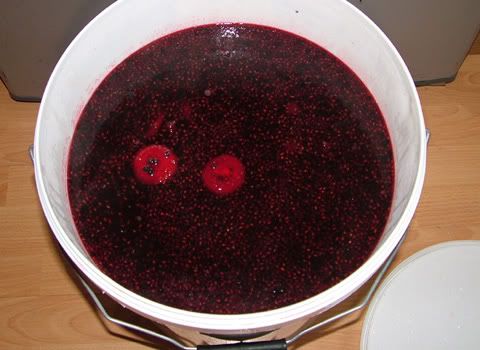 When cooled to 25°C I added pectolase, yeast and nutrient. I have used a Gervin GV2 wine yeast, which claims to be "particularly suitable for full bodied red and white wines", but any GP or red wine yeast would suffice.
Leave in the bucket for 3 days, stirring the fruit cap back in at least twice daily.
Straining
Dead easy but can be a bit messy. It should go without saying that everything which touches your wine needs to be well washed and sterilised/disinfected.
The basic set-up is jug, sieve, straining bag, funnel, fermenter: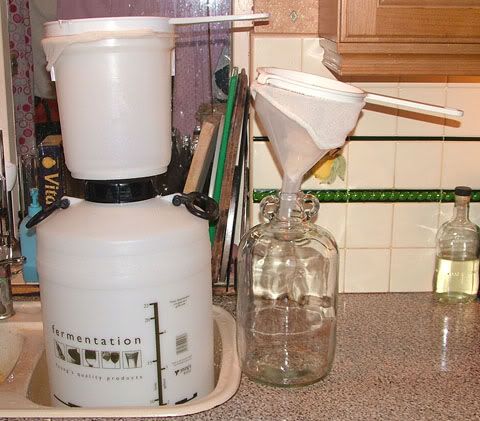 A nylon straining bag is ideal but might cost around £5. It could last many years if you look after it. Use it with the seam on the outside, wash it thoroughly immediately after use and boil it in a large saucepan of water for 10 minutes before use. Unfortunately, last weekend I was straining something else, squeezed the bag of pulp a bit too hard and put my finger through it. However, it had lasted me many years. My HBS sell muslin/cheesecloth straining/grain bags for around 20p and I usually keep a few in stock, so I used a double thickness of those.
Best practice is probably to boil your sugar to a syrup with half a litre of water to every kilo of sugar (1 pint to 2 lbs), allow to cool and pour that into your fermenter, although you could just dump the sugar in dry, strain onto it and stir later.
When you take the lid off the bucket you will probably find a crust of fruit on the top, so I skim off the majority and squeeze the juices through the sieve with a spoon:
If you're making wine on a larger scale, don't discard that pulp but put it into another FV or some other sterilised container for now.
Now it's just a matter of jugging the rest of the must plus pulp through the sieve into the bag:
Some fruits disintegrate into mush, so the bag might clog after a while, and it also helps to lift the bag just slightly clear of the funnel and see-saw the fabric from side to side. Elderberries are mostly skin and pips and this one should flow through the bag quite easily.
That's it, fit an airlock and let those yeasties get on with their job. If using a DJ or PET don't overfill for now but top up after a few days. Fermentation should take 2-4 weeks, leave it for at least another week when airlock activity has ceased, rack, put away somewhere cool for a couple of months, rack again, put away somewhere cool and forget about it for a while.
Try to keep this out of the light, wrap the fermenter in brown paper or throw a black dustbin bag over it.
I had to strain this now but wasn't really in the mood, could probably have squeezed another pint or two of juice out of this pulp, but I already have rather a lot of wine on-the-go so I didn't bother.
However, if you return that to an FV, add half the original volume of cold water and give it another few days, you can quite often get a second, lighter mash, and that wine will be ready for drinking much sooner.
Don't forget to clean up / mop the floor afterwards.